In business we call it "first impressions." Psychologists call it "thin slicing." Regardless of what you call it, career experts say it takes just three seconds for someone to determine whether they like you and want to do business with you.
According to BusinessInsider.com (2015), you have even less time to make a good first impression. Research from Princeton, Loyola Marymount University and the University of Liverpool demonstrates that judgments people make regarding your trustworthiness, intelligence and competence as a business leader are based on first impressions—sometimes in as little as one-tenth of a second.
One-tenth of a second?
If you don't think this is true, just measure your own reactions next time you walk into someone else's business for the first time. If a friend recommends a new restaurant but it has a funny smell when I walk in the door, I immediately begin to question my decision to eat there. Once, when I was driving on vacation I stopped to check availability at a hotel, but walked out before I could get the answer—based on my first impression.
The situation doesn't have to be extreme to leave a bad impression. Have you ever taken your children to another activity outside of dance and found yourself fighting the urge to jump in and help the coach manage the children? Or have you ever wanted to straighten up someone else's lobby? That's why the saying, "First impressions make lasting impressions" is true.
Keep reading to learn what first impressions you may be giving your dance families without even realizing it.
[formfuse id="908″]

---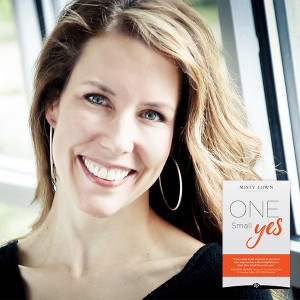 Check out Misty's new book, One Small Yes, available on Amazon. This book is a must read for studio owners that are looking for ways to balance the dance of work and life.
"Amazing! One Small Yes is such a great book on finding your calling in life and how to navigate and work through living out the calling. Must have for all entrepreneurs!!" – Kristen, Absolute Dance
"Loved One Small Yes by Misty Lown. Outstanding book for anyone, especially the small business owner or entrepreneur. An inspirational book which helps the reader face challenges and give them the courage to continue to move forward and face what lies ahead. Loved it!" – Melanie, Tonawanda Dance Arts
"Reading Misty's book was like opening my inbox and finding a personal email written just for me. She took my thoughts and feelings about being a small business owner, put them down on paper, and then step by step carefully explained what was holding me back from achieving more in life. Now I have no excuses to moving closer to my Yes." – Nancy, Studio B Dance
---
The "Expert Advice from Misty Lown" series is brought to you by More Than Just Great Dancing™ and TutuTix.