Besides being very easy and convenient to prepare, healthy smoothie recipes also provide your body with lots of nutrients and keep you feeling full. Because of the large number of ingredients that you can use, you can easily find lots of different healthy smoothie recipes online. The main ingredients that are commonly used are fruits, vegetables, nuts, seeds and a liquid of your choice.
This particular smoothie, which we've called "En Pointe," can be drunk at any time of the day, and would be an ideal snack to have an hour or so before your dance session.
Ingredients:
1/2 cup of frozen berries: you can either freeze the berries yourself or buy them ready frozen in store. Common berries to use are strawberries, blackberries, blueberries, raspberries and cranberries.
Berries are one of the best sources of vitamin C that there is. This vitamin not only helps keep your immune system in shape and helps your body absorb iron from the food that you eat, it is also a powerful antioxidant. Antioxidants are substances that reduce free radical damage in our bodies, thereby preventing multiple different diseases.
Studies have shown that berries keep you mentally sharp, improve heart health, and assist in weight management. Even if they didn't come with all these benefits, they just taste great!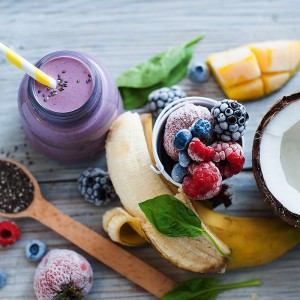 1/4 cup of frozen mango: like berries, mangoes are high in vitamin C. They also provide your body with vitamin A, which is needed in order to maintain the health of your eyes, skin and hair.
Despite being extremely tasty, a quarter cup of mango only contains 28 calories! This is because it is made up of more than 80% water. The natural sugars that it contains will keep your feeling energized and alert.
1/2 medium banana: this fruit has got to be the most commonly used ingredient in smoothies, which is why we included it in this recipe as well. Bananas help to make smoothies nice and thick, much like a milkshake.
They also come with a number of health benefits. Bananas contain many important nutrients such as vitamin B6, copper, manganese and dietary fiber. They are often considered as being the perfect food for athletes because of their easily digested carbohydrates and mineral content. Some studies have also shown that eating bananas could help reduce muscle cramps & soreness. This is great news for dancers!
1 cup of spinach: greens are important and should be a large part of your diet. However at the same time, they aren't always the most exciting of foods and eating them can just be plain boring.
Adding greens into smoothies is the perfect way to disguise their taste whilst at the same time making sure you are meeting your daily requirement. Look at the color of this smoothie – would you even be able to tell that there's a whole cup of greens in it?
Spinach provides your body with a multitude of vitamins & minerals, including vitamin K and iron. In place of spinach you can use kale, Swiss chard or collard greens.
1 tablespoon of chia seeds: these black & white seeds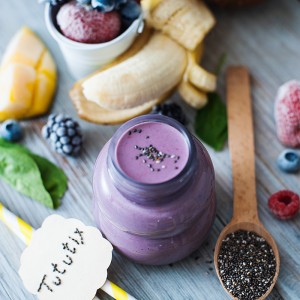 are incredibly small, and one would wonder if they are even worth eating at all. Well, they certainly are! They provide your body with protein, dietary fiber, calcium, zinc and omega-3 fatty acids.
When chia seeds are introduced into liquid, they swell up and form a gel like consistency. This helps to keep you feeling fuller for longer.
If you don't have chia seeds at hand, you can also use flax, sunflower or pumpkin seeds.
1 cup of coconut water: and finally, you need to add in a liquid ingredient so that you can actually drink the smoothie! There are a wide range of options to choose from, including ordinary milk, nut milks, fruit juices and even plain old water.
Coconut water makes for a wonderful smoothie ingredient. Firstly, it contains natural sugars and a distinct taste which helps to enhance the flavor of the beverage. Secondly, it is a good source of electrolytes, in particular potassium and magnesium, both of which keep your heart healthy. Finally, it is super hydrating!
Super Simple Directions
To prepare this smoothie, add the coconut water to a blender followed by the rest of the ingredients. Blend well, until everything is nice and smooth. Then simply pour into a glass and enjoy! Thanks to healthsomeness.com for this awesome recipe.
Let us know how your smoothie turns out! Be sure to tag @tututix on Instagram or Twitter, or feel free to post your creation to the TutuTix Facebook page!