YOUR DANCE SCHOOL WEBSITE = YOUR INTERNET STOREFRONT
The Internet is here to stay, so instead of avoiding cyberspace, dance studios should embrace the endless marketing opportunities available. There are numerous ways to increase exposure, strengthen your brand, and provide insight into your programming. Most online options are an incredibly reasonable expense, especially after doing a cost-benefit analysis in potential for strengthening, growing, and building your brand.
Your storefront defines your business within your community. Your website defines your business within the Internet. Your website should be taken seriously; spend the money to make it look professional, intellectual, and representative of the product you are offering your clients. When you are representing your business, you should have a cohesive graphic identity and that should flow from your print marketing to your website design. It is your responsibility to make sure everything makes sense to the consumer.
Within the dance studio world, there are a variety of websites, some effective and some ineffective, and because we are in the arts industry, studio owners tend to devalue the importance of their web presence. This is a huge mistake! Your dance school website could influence a prospective client's decision to choose your studio versus another studio or extracurricular activity.
Here are some things to consider during your website design process:
Website Appearance
The appearance of your website is the first thing that will catch a viewer's eye, and it will also influence whether or not the viewer chooses to continue reading the information your site provides. Your online appearance is of vital importance.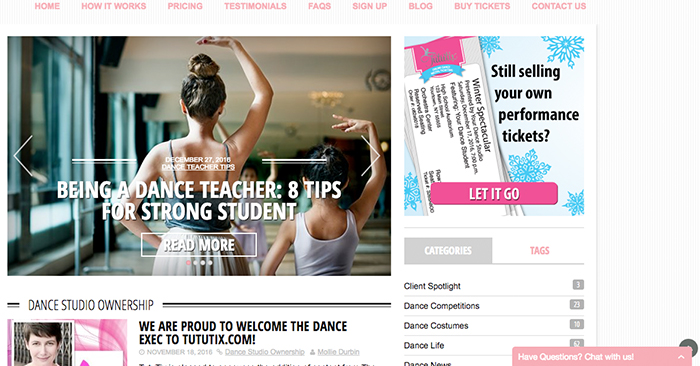 Hire a web designer: Free, homemade, or cheap-looking sites are not acceptable for your business. If you want your clients to take you seriously, design and brand your website in a professional manner.
Keep your site updated. An outdated or neglected website is a disservice to your brand and will only negatively impact you. Make sure you have a format that is user-friendly for updates and regularly skim the site for outdated content.
Be aware of the design quality. In the dance world, we love bright, crazy colors and sparkly things. Your website may not be the best avenue to showcase that love, so when designing your site, think "less is more." Less vibrant tones will be more visually appealing to your site visitors.
Use proper grammar and spelling. This would seemingly be stating the obvious, but there are many dance studio websites with improper grammar and spelling. Ultimately, this is a poor reflection on the studio, so when preparing your written content for the website, please proofread and check for grammatical errors (often, it takes two, three, or more people to sufficiently proofread content).
Make sure your site offers easy, logical navigation options with a sleek and clean design. If your site is cluttered, it will be frustrating for clients to navigate.
Use your own content. Do NOT copy and paste materials from other studios' websites. Be creative, be original, and create content that exclusively represents your studio and your business. On a similar topic, you should only use photos that actually represent your business; stock photos or photos from another studio are not an accurate representation and should not be used to promote your business.
Dance School Website Content
Your website content should be informative, accurate, and thorough. If a person visits your website, you should be willing to provide all of the information necessary to enroll and be a part of your program. Being evasive with your information is not an efficient way to promote your program or your business. Providing commonly requested information will also decrease time spent informing new or potential clients about your programming (since they will have access to that information).

When building your dance school website, you should include:
Your location and contact info on every page; people should be able to easily connect with you via your site.
Links to your social media (Facebook, Twitter, Instagram, blog, photo sites, etc.)
Information about the people that currently work at your studio: owners, directors, and instructors.
Information about your business: mission statement, class descriptions, facility photos, testimonials, and contact links.
Class schedules presented and formatted in an easy to read and easy to find format that makes sense to non-dancers (remember, the majority of your parents will not be experienced dance professionals).
Online Registration! Make it easy for people to register for classes.
Information about your studio's special events (intensives, workshops, open houses), performances, special offerings (birthday parties, private lessons, etc.), community service, and anything else that is important to the culture of your brand.
Your studio's policies and calendar. (If this information is on your website, people will not have an excuse for not knowing.)
Photos and videos taken from within your studio (with parental permission and acknowledgement).
Contact form that makes it easy for people to communicate with you.
Website Functionality
When people visit your site, it should be informative and functional in the following ways:
Visitors should gain a solid knowledge of the overall culture and brand of your studio. They should know your complete expectations for enrollment, tuition, recital participation, etc.
Visitors should be able to register students for classes.
Visitors should be informed about upcoming events, schedules, and calendar.