Attending the United Dance Merchants Association's (UDMA) yearly costume shows can be a beneficial and fun experience for any studio dance owner. You'll have the opportunity to learn about new costume trends and get to see the latest styles in person. You'll also be able to learn about a number of studio-related products and services that can help make our life easier.
UDMA even offers educational opportunities with renowned dance professionals on a variety of topics. If this is your first time attending a UDMA event, check out the tips below to make your first experience a success!
Come Prepared
When it comes to attending one of the large UDMA shows held each year, it's important to be prepared. These events allow dance professionals to get insight on upcoming costume trends and do some groundwork for recitals and performances. The shows include information and vendors beyond costumes, too—be prepared so that you are ready to make the most of it!
Bring a big bag or, even better, a rolling suitcase. You'll be happy you have it after receiving lots of catalogs, giveaways from vendors, and samples.
It's important to dress smart. As you run around from vendor to vendor, you won't have a lot of time to sit and take a break. Wear comfortable clothing and shoes to keep you on your feet. You don't want to have to end your visit early because your feet are blistered and sore.
Bring cash for coffee, snacks and lunches. These events last the whole day, and if you're enjoying yourself, you don't want to have to go far to find food and drinks.
Print off a sheet of address label stickers with your name, studio name, address, phone and email. If you want to request more information from a company or enter one of the many giveaways offered by vendors you can simplify the entry process by using your stickers on the entry forms.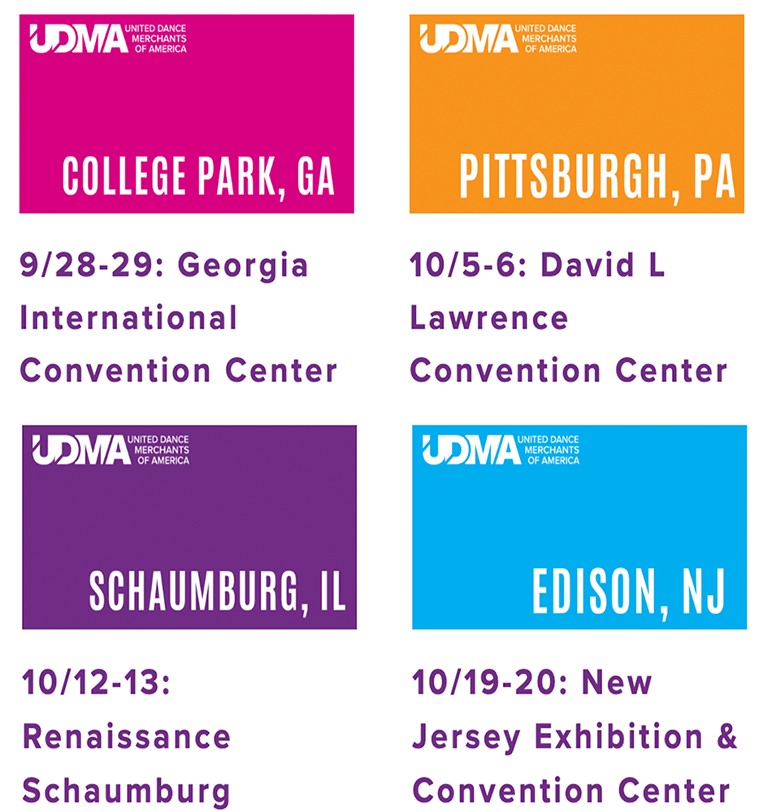 From the UDMA Website https://udma.org
Check Out the Seminars
During the three sessions this year, UDMA will be offering five seminars that dance teachers and studio owners can attend. This year, there are THREE business seminars (open to studio owners who may register their staff) and TWO movement seminars.
And the lineup of speakers is impressive! Steve Sirico of DanceTeacherWeb.com. Suzanne Blake Gerety of DanceStudioOwner.com, and the man himself, Rhee Gold will each present a business seminar in each city. Anthony LoCasico of Taplife and Tricia Gomez of Rhythm Works Integrative Dance will each present the movement seminars.
Note that the seminars require a separate registration from the vendor/costume show, as well as an additional fee. You can find more information here.
Come Visit Us at the TutuTix Booth!
This year, TutuTix will be visiting the various sessions of UDMA to talk costumes, recitals, and more. Look for our booth – it's hard to miss (look for the sparkly pink shiny wall!)
We'll even be hosting a surprise item giveaway: earlier this year we gave away iRobot Roomba's to lucky guests! Stop by to pick up some goodies and sign up for our big giveaway.
Talk to People and Have Fun!
Before you get there, visit the UDMA website to find out what vendors will be attending your local event. Make a list of the booths that you're really dying to see so you know where to go as soon as you arrive.
As you see dancers in the latest costumes, don't be shy! Approach them and ask them to move around in their attire so you can better understand the look and feel of each costume.
Something to note: photography isn't allowed at this event. So be sure to bring a notebook to help you jot down what you like to help you prepare for this year's dance season.
Want to do some exploring? DanceInforma has some cool ideas for how to make the most out of your travel experience while at UDMA.