I often hear the debate of what age is acceptable for a child to begin performing. I firmly believe that the earlier young dancers can start performing, the more comfortable, self-confident, and present they will become as performers and artists.
At my studio, I am completely comfortable putting a 3-year old student onstage for the annual performance (taking show times and performance length into consideration, of course). I first performed at 3-years old, and I remember absolutely loving the experience. When I am feeling nostalgic, I will find the VHS (and the VHS player) and watch the playback (anyone remember toast shiny tights?).
Younger students are so capable and uninhibited, and I think too many instructors (and, perhaps, even some parents) underestimate their power to learn. If you instill disciplined habits and work ethics in students at a young age, they will really excel in their training dance training.
Obviously, there are proper teaching methods and philosophies for younger students that are developmentally in-line with their physical and psychological maturation. These students should be nurtured, loved, and taught in a way that will allow them to develop a proper passion for the art.
And, performing at a younger age can mean many different things. Obviously, the expectation is not that a young, 3-year old will perform double pirouettes, extensions, and aerials. Rather, the accomplishment lies in the completion of the task.
Some of a young student's accomplishments may be: standing on stage and not crying, forming the circle in the routine, knowing where to stand, remembering to smile, finishing a routine, or feeling proud of themselves for accomplishing a goal.
With each opportunity, the child will feel more comfortable and progressive in his/her capabilities and performance. The growth is truly rewarding for everyone involved in the process.
Getting Older Students to Start Performing
As a counter observation, for students that begin performing in their pre-teen/adolescence, it is more difficult to instill performance qualities since they lack the extent of early exposure to the stage and performing. As students age, they become concerned about others' opinions of their projection, which usually translates to being more nervous, apprehensive, and tense when asked to perform and project onstage.
Of course, students' projections can be fostered and improved, regardless of age, but, for students that are truly interested in performing, the younger a student can start acquiring the culture of the performance environment, the better. Then, the act of performing becomes second nature.
Certainly, younger students' performance capabilities are dependent upon maturity, personal readiness, and level of interest. This philosophy is not a blanket standard; rather, it is something to consider for students that are young and ready for the performance experience. Do not write off opportunities simply because of a child's age; rather, see how you can further ignite their passion and interest in dance.
You have the power to offer students opportunities to grow and blossom, regardless of age, and that is a tremendous gift and reward of being a dance educator. Let's use it!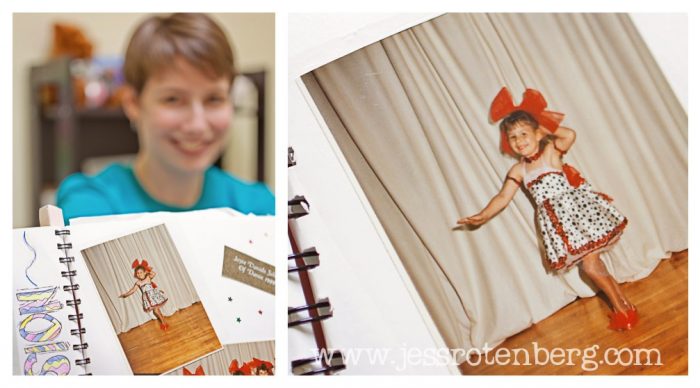 (This is a recital picture in the dance scrapbook I created in high school. This pic is from my second recital; I was 4 years old.)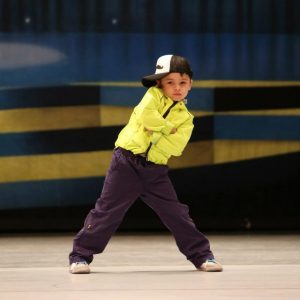 (This pic is of one of my students. He has been performing on stage since he was 2 years old. Now 6, he absolutely loves the performance experience. We are fortunate to have many students at our studio that feel the same way. Words cannot begin describe the pride we feel towards our young, tenacious, passionate performers!)