Only two weeks left to go before the recital – can you believe it? Your dancers are probably starting to feel some nerves, not to mention the stress you're likely feeling as you run over in your head the zillion things you have to do before showtime.
Before you drive yourself crazy running around, take a breather and look at this checklist of the things you need to do over the next two weeks.
Host a Makeup Rehearsal
Whether it's this week or next (before the dress rehearsal) make sure you hold a makeup and hair rehearsal for your dancers, and their parents if they want to join. A beauty rehearsal is a great way for novice dancers and the parents of younger students to practice how the makeup will be applied and how their hair will be styled. This way, you save the time going over the hair and makeup at the dress rehearsal, and there's (hopefully) few or no questions before the actual recital.
It's not just the newbies that need a beauty rehearsal, though. According to Dance Informa, even the most experienced dancers should attend a makeup and hair rehearsal before the recital, since this helps the dancers make sure that their hair and makeup styles are uniform and coordinated with the rest of the dancers in the group.
Have Recital Programs Submitted to the Printer
Recital programs are pretty much an expectation for dance recitals, as they help inform parents and patrons about the order of dances and the general timeline for the evening. At two weeks out, you MUST have your finalized program designs submitted to your printer to make sure:
You have a timely delivery of the final product
Any emergency issues can be resolved
Collect Pre-Orders of DVDs and Other Items for Dance Recitals
If you have the resources and manpower, it can be profitable to have a table at the recital selling performance DVDs, photos and other collectible items. However, collecting pre-orders a couple weeks before the event helps maximize profits and make sure every parent or dancer who wants the extras gets them. Send out emails and social media posts reminding parents to pre-order DVDs and other souvenirs and set a deadline for orders at least a week before the recital. You can use physical forms for orders, but online forms make things easy for both you and the parents.
Give Parents Detailed Drop-off/Pick-up Instructions
Dance Exec noted that it's important that parents have detailed logistical information for the recital ahead of time. It's a good idea to hold a pre-dress rehearsal meeting in addition to sending a detailed letter – over email is most convenient for the parents – that describes the drop-off and pick-up process, along with any reminders about ticket and DVD sales, costumes and other important dates and times, in addition to thorough directions to the venue if the recital is not held at your studio.
Need a letter or dance recital information sheet template? We've made an example sheet you can download and customize in Microsoft Word for your studio's needs below: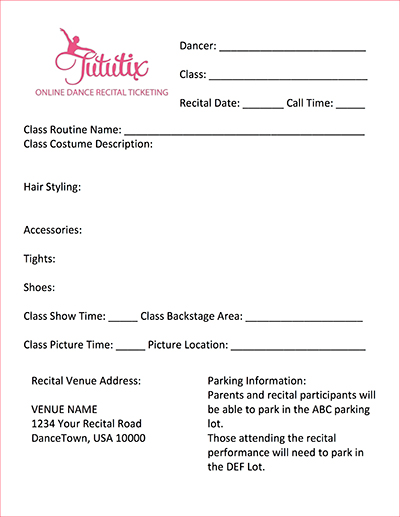 Have "Day Of" Plans Finalized and Supplies Prepared
Two weeks before the recital – and in the week leading up to it – reach out to your volunteers to confirm that they will be helping out. Make sure you have enough volunteers to cover all duties. If not, you have time to recruit some last-minute helpers.
For some backstage organization ideas, check out this quick video:
[wpsm_video]https://www.youtube.com/embed/VXrsp5UdxkQ[/wpsm_video]
Along the lines of volunteers, have all of your signs and backstage planning items printed/laminated/explained/etc. If you plan to have clear signs backstage that point to "Stage," "Lobby," "restrooms," or particular areas of the backstage, have them done and checked off your list.
Need a quick backstage organization tip? Laundry baskets.
Put Together Supply Boxes
Michelle Spezio, director of Spezio's Dance Dynamics in Buffalo, New York, shared a great tip with Dance Studio Life. She puts together boxes of frequently forgotten and emergency items like bobby pins, lip stick, hairspray, sewing kits, nail polish remover, tape, scissors and safety pins, and then places these boxes on either side of the stage and in dressing rooms. You should still remind dancers and their parents to bring their own back-up kits, but these boxes are much-appreciated insurance.