Welcome to The Done Club! Recital season is finally over, and it's time to take a big sigh of relief. It's also time to take a look at the next few months and plan out ideas for bringing more dancers to your studio. Use these 5 strategies to create a great dance studio marketing plan for the summer, and fill up your fall classes.
Gather Multimedia
In today's world of social media and powerful mobile phones, having great content to share from your events can be very valuable. And, if you didn't make a dedicated effort to gather some photos or video this season, you can bet some parents documented their child's recital experience. See what you can find! Sharing great recital images or video content on your social media channels is a sure-fire way to engage your parents and showcase your dancers' talent. You can even use those photos as decorations for your studio!
But, be sure to have parents' permission in writing before you put those photos anywhere. Some studios have a photo permission release form included at the beginning of each season. If you don't have one of those, you can still email a parent directly and ask for permission. Just wait to get a positive response with clear approval language before you move forward on sharing a photo (or video) anywhere.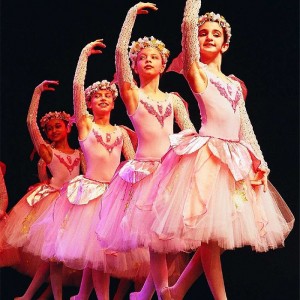 Write A Post-Recital Follow-Up Email
Along with sharing news and media from your recital online, consider reaching out to your parents and prospective customers with a post-recital email blast. That email can thank parents for their support during recital season (and should hopefully have a few great pictures included!). It can also invite prospective parents to reach out for more information about your studio. Most importantly, include an invitation for current customers to renew their registration. You should mention any referral or discount programs you might be planning on using this year. If you have online registration available, have a big section with a link to register and a call-to-action message:
"Don't wait until the fall to sign up for your child's dance classes!"
"Students are already signing up for fall lessons, be sure to register early before spots are filled!"
You can also use an email to make announcements about new classes being offered, new teachers being hired, or any summer events the studio will be hosting.

Send Out Printed Mail
Sending out a letter to parents after a recital can show your appreciation for their business, and your dedication to their child. Especially if you had a photographer for your recital, try and find a picture or pictures of each student, consider including them with your letter! Parents will be thrilled to have professional shots of their child at their recital, and chances are they'll reach out about getting more pictures to share with their friends and family.
Along with the positive relationships you can foster through a personalized mail piece, you can also include important registration information for parents to renew their child's lessons for the fall. If you use paper registration, it is possible to include packets and forms in a mail-piece for parents to fill out and return. However, it's less than appealing (as a parent) to receive a super-stuffed envelope with a variety of forms, and those forms could very well end up sitting on the counter for weeks before being returned. A much more effective way of engaging parents and encouraging quick registration is by including a small sheet with a website URL for online registration.
Our ideal mail-piece inventory would look something like this:
Thank you letter, with your signature (or a teacher's signature)

1-2 pictures of the specific student

Registration reminder slip with a URL and social media information

Flier for any summer events the studio will be hosting
All of these documents fold neatly into a regular business-size envelope, keeping your mailing costs to a minimum (one stamp per envelope).
Host Summer Camps/Workshops
A good dance studio marketing plan isn't only about sending out information directly to customers. It's about creating community awareness for your studio and your brand. Hosting summer camps or dance workshops is a great way to keep your business on customers' minds, while also creating some incoming cash flow during the summer months. These smaller events can also serve as great preview opportunities for prospective students! Having them sit in for a session can make all the difference in their decision about signing up for lessons in the fall.
Volunteer at Community Events
Unlike dance camps or workshops, community events put you and your dancers in the public eye. They can also help create a buzz about your studio. Having your dancers volunteer to perform at a local fair or arts event provides more performance experience for them. Plus, it showcases your studio's potential to parents who are thinking about signing their child up for lessons. Similarly, volunteering your time to teach at a fine arts camp can create networking opportunities for you with other professionals in the area. Those events can even put you in touch with art-minded families who might consider your studio for classes.