As recital season approaches and you begin to make decisions about ticket sales and distribution, keep these important factors in mind when making the reserved seating versus general admission decision.
Editor's note: This article was originally published in February 2015. It has been updated with current data as of February 2017.
First, a bit of a refresh:
General admission (GA) means that a ticket holder may choose any available seat in the venue.
With reserved seating, each ticket corresponds to a specific seat within the venue and is labeled with a row and seat number.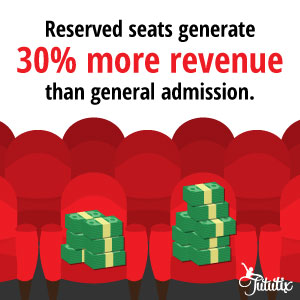 Ticket buying patrons have commented overwhelmingly in surveys that RESERVED SEATING is preferred. Working with hundreds of dance studios nationwide, we can say with authority that reserved seating is a better solution for STUDIOS as well. Here's why:
You can make more money. Not only does reserved seating enable you to do more granular tiered pricing (that is, charging more for the best seats in the house), but patrons are willing to pay more for a reserved seat. The average price for a GA ticket in the spring of 2016 was $10.80. Reserved seating tickets fetched an average of $14.03 during the same time period. That's almost 30% more revenue from going reserved!
Reserved tickets sell FASTER, meaning you get money SOONER. The reason for this is easy to understand; the sooner a ticket is purchased, the better the seat! The average GA ticket in 2016 was purchased 16 days in advance. For reserved? Tickets were snapped up 26 days in advance. In other words, reserved seats sell 50% faster than GA tickets!
Recital day is EASIER with reserved seating. Although ushers may be necessary to help patrons locate their seat, you avoid the drama associated with overzealous "seat-holders." You know who these people are. They bum rush the venue as soon as the doors open and litter your venue with everything from purses to police tape to secure seats for their party.
Your competitors are ALREADY doing it. Eighty-eight percent (88%) of the almost 500,000 recital tickets we helped studios sell in 2016 were reserved seating. It's no longer a competitive advantage; it is now an expectation.
It costs you NOTHING extra to go reserved. With TutuTix, online seating chart setups are FREE. Studio owners need just provide our team with a legible copy of the venue seating arrangement, and we'll build it all online. Patrons can go onto your studio's ticketing page at your custom TutuTix link and select the specific seats in which they want to sit.
Need more information?
Our dance recital ticketing experts have helped hundreds of dance studios price, sell, and distribute their recital tickets. To request a professional consultation please contact us.