Want to make your recital picture days as efficient as possible? Pre-plan the classes' portrait poses, so that they can be immediately prepared when they enter the photo room. There are several things to think about when planning your studio's recital photos. But, if you put in a little preparation you'll save yourself stress and save everyone time on the day of recital pictures.
Timing and Location
When are you going to have your recital pictures taken? Will it be at the dress rehearsal, or on the day of the recital? Will you be having your dress rehearsal at the performance venue?
Answering these three questions will determine a lot of things about your recital pictures: the scenery and setting, how much time you'll have to get good pictures, if you'll be hiring the photographer for one or two nights.
Let's say you take your recital pictures the night of the dress rehearsal, and have access to the performance venue.
This means that your advance work might mean going by the venue and picking a good spot for photos, and scheduling the pictures as part of the evening! The only downside might mean the cost for the photographer for an extra night (unless you have a package deal that includes recital pictures and performance pictures).
With some good logistics and planning with your teachers, you can have one group of dancers taking pictures, and then heading for the stage so that there aren't any dancers (and parents) sitting and waiting.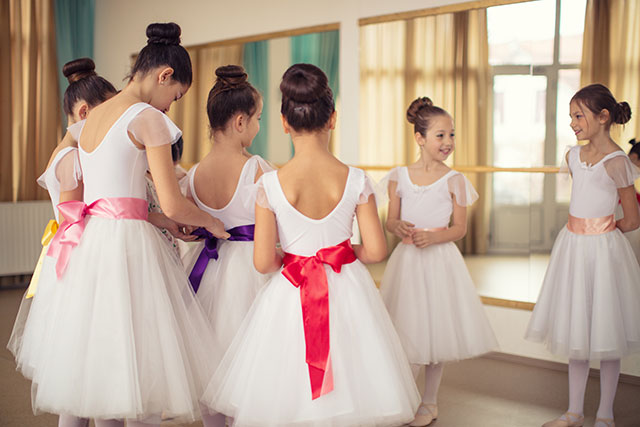 If you take your recital pictures prior to the recital but don't have access to the venue, you can be a little more flexible in your setting! But, timing is important: having pictures on a night where all dancers are required to be there (like the dress rehearsal) helps to ensure that all of your dancers actually attend. As far as the photographer, it's the same situation: are they charging by the night? As a package? That's up to you and the photographer to figure out.
If you take your recital pictures on the night of the recital, at the venue, you'll be in great shape to have everyone there, and in a great setting! Keep in mind that you'll be in a little more of a time crunch, since parents/family/guests will be eager to get into the venue space. Plus, even if you take pictures somewhere different than the stage, dancers will be easily distracted by their family members. Preparing recital pictures will probably be the MOST helpful in this kind of situation.

Composition
Depending on the age of your dancers, the simpler the arrangement, the better. Your goal with these recital photos is to make sure everyone's face is clearly visible. Very basic setups put taller dancers in the back, shorter in the front. From there, you can arrange dancers in a way that shows off costumes, featured soloists, etc.
Depending on your agreement with the photographer, you can ask them to come by the studio to help with this planning. They might be able to offer some creative tips to make your recital pictures really pop!
Even if your professional photographer can't make it to a planning session, you might know that one of your dance parents enjoys photography, and might be able to help out as well.
Make notes and keep track of every class' designated position. When it's time for the official photo shoot, make sure your studio representatives have access to and knowledge about all of the poses for each of the pictures. While poses may be adjusted slightly to work for the camera, this will create efficiency, evoke creativity in the photographic composition, and save time.
*Editor's Note: This piece is based on an article written by Chasta Hamilton-Calhoun of the DanceExec.