For the sixth year in a row, we are excited to present the survey results collected from our annual dance studio software reviews survey. We asked dance studio owners to answer questions about their dance studio management software, and over 500 studio owners did just that.
If you've considered investing in software to help you manage your studio, we hope you find this data useful.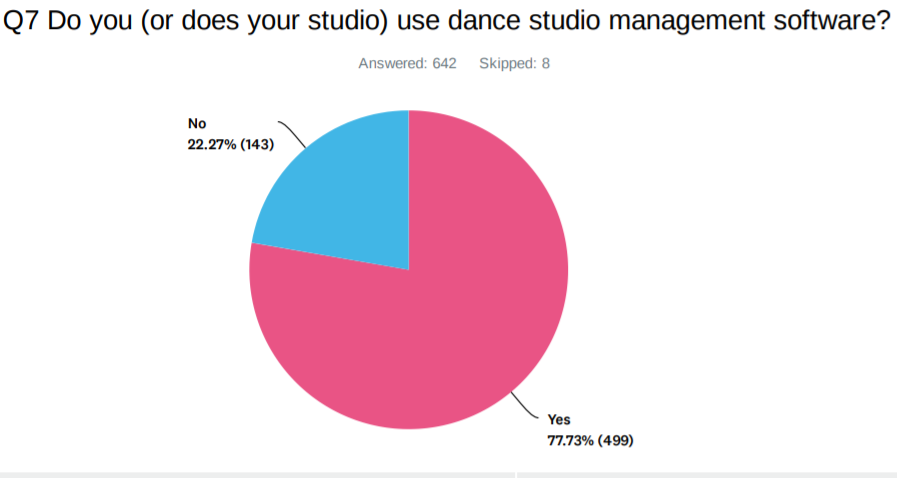 Survey Highlights
The percentage of studio owners that are using dance studio management software was up this year, with ~78% of respondents saying they used it.
Just like last year, studio owners overwhelmingly choose software based on its ability to meet their needs; referrals from friends and associates also carry significant influence in the purchase decision.
The market is dominated by four major players. Jackrabbit and Studio Director take the lead, followed by ClassJuggler and Akada (Dance Works).
Attendance tracking was the most important feature this year, followed closely by online registration, which is not surprising given our current landscape in this pandemic.
Customer service and ease of use are the most important reasons studio owners picked their chosen software.
To see the full report on Dance Studio Software Reviews, please visit the survey dashboard on SurveyMonkey.
Check out previous editions our dance studio management software survey results and dance studio software reviews here:
Interested in more articles about dance studio management? Check out these articles from the TutuTix archive: